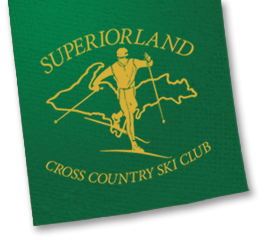 Superiorland Ski Club Latest Feed
Hello fellow skinny skiers!
Wow! What an extra challenging winter to be a nordic skier. I've been impressed with a very hardy group that has been showing up at the Fit Strip for the relays on Wednesday nights. To say the least, we've had some frosty smiles out there. Thanks to Coach Joey for bringing his fast and frosty group of high school skiers and, as always, there's a group of extra fast master skiers that continue to show up week after week. So there has been a nice mixture of both youth and veteran skiers alike throughout this extra frosty winter that showed up to ski hard and enjoy each other's company. We will conclude the relays in which everybody is invited to do the Fit Strip 50K on Wednesday, March 12th at 6:00 p.m. Don't worry. It will be fun and we will also be honoring our longtime friend John Anderton. Please come out and have fun wrapping up another season of relay racing and camaraderie.
Ski ya later! Greg
Questions? Call Greg at 362-4445
Read more.
About The SSC
The Superiorland Ski Club mission is to provide Marquette's ski community a chance to work together for the betterment of trails and facilities and to provide and support youth and adult skiing in our area. The Superiorland Ski Club is dedicated to supporting youth skiing in Michigan's Upper Peninsula.
Upcoming Events
Fit Strip 50K on Wednesday, March 12th at 6:00 p.m. It will be fun and we will also be honoring our longtime friend John Anderton. Please come out and have fun wrapping up another season of relay racing and camaraderie.
Annual Meeting and Club Banquet set for Wednesday, April 16th 6-8pm at the Marquette Commons Building in Downtown Marquette located on 112 South Third Street
Bike and Kayak Swap at the Marquette Armory
Saturday, April 26th
Xterra Lake Superior Shore Run- Saturday, September 27th, 2014 at Little Presque Isle.  This will be the events 20th year!
View our
Calendar
to see more upcoming events.
Stay In Touch