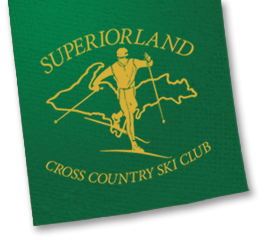 Superiorland Ski Club Latest Feed
Club Days are here.  A great chance to get your gear for the season.  Down Wind Sports will be hosting Club Day on Saturday November 14th and Sports Rack on Tuesday, November 17th.     Both will occur all day during normal business hours.     There are discounts available to club members and memberships are available at the shops.  Its a great chance to load up on ski gear, wax and technical clothing for the impending season.
Registration for the various club sponsored youth programs is now underway.  Please visit the youth programs page here for more information and links to the necessary forms.
Also, remember the ski swap this saturday is a great place to get that flashy new so you can hit the trails in style once the snow flies.  Club memberships will be available on site for the coveted early access.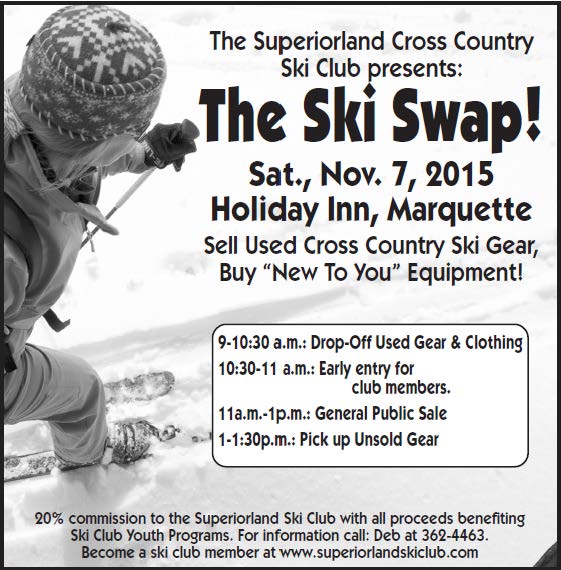 Volunteers are always welcome for the swap so if you'd like to help call the number on the flyer above.
Read more.
About The SSC
The Superiorland Ski Club mission is to provide Marquette's ski community a chance to work together for the betterment of trails and facilities and to provide and support youth and adult skiing in our area. The Superiorland Ski Club is dedicated to supporting youth skiing in Michigan's Upper Peninsula.
Upcoming Events
Beginner Wax Clinic with Rick from Sports Rack- Thursday, December 10th at the Blueberry Ridge Warming Hut.  Call Rick at 906.225.1766 to reserve your spot.
First Ski Cat Session:  Sunday, January 3rd, 2016
First Adventure Team session: Sunday, January 10th, 2016
Junior Noque:  Friday, January 22nd at Forestville Trailhead races begin at 4 
Noquemanon Ski Marathon:  Saturday, January 23rd, 2015
2016 Xterra Lake Superior Shore Run: Saturday, September 24th, 2016 at Little Presque, to register:  www.lakesuperiorshorerun.com
View our
Calendar
to see more upcoming events.
Stay In Touch